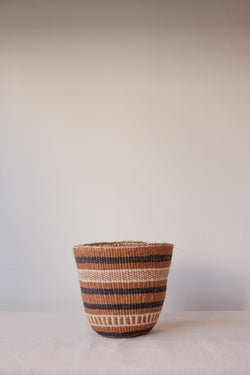 Ondine Ash
Traditional Fine Weave Basket
Made using hand-dyed sisal, these beautiful baskets are hand woven in South Western Kenya by a weaving cooperative of around forty members.
Every one of our Traditional Fine Weave baskets is unique and a one-off. These versatile baskets can be used as fruit baskets and desk tidies through to large planters. 
Through a fair trade relationship, cooperative members are able to support their families more comfortably - with every purchase actively supporting the livelihood and empowerment of the makers.  
Height: 17cm, Diameter: 18cm.
Natural, Black & Tan

Woven from natural sisal. 
Spot clean only.